Anaesthetics
Oxygen Therapy Equipment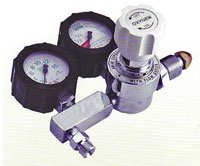 Amar Oxygen Regulator with Flow Gauge
GM 3009
Replacement of the flowmeter unit by a Flow Gauge with Gauge Saver and a rugged all metal construction ensures less frequent & reduced maintenance / servicing. Tamper-proof Safety Blow off situated inside the regulator prevents unauthorized adjustmants of blow off pressure. Larger Control Knob provides more convenient operation.
---
Oxygen Regulator
GM 3008 The Regulator has a factory preset fixed static outlet pressure of approx. 4.2 kg/Sq.cm (60 lbs/ sqin) and is fitted with safety valve. Once the flowrate has been set, the regulator will automatically maintain a constant flow rate irrespective of changing volume of cylinder contents. If the oxygen line distal to the regulator should be blocked, the automatically prevent the build up of an excessive pressure in the apparatus and tubing between the outlet of the regulator and the obstruction. A pressure gauge indicates the cylinder contents.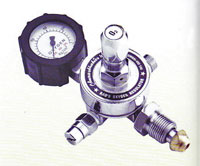 ---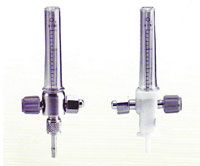 BPC Flowmeter Unit
GM 3041 – Metal
GM 3010 – Plastic
The Back Pressure Compensated (BPC) flowmeter incorporates a rotary pin valve control to permit adjustment of the flow rate to any desired level between 0 – 15 ltrs/min. Jacketed type shatterproof tubes are fitted on the units. The outlet at the bottom of the unit is fitted with the removable nipple. After removing the outlet nipple, a humidifier can be screwed into outlet of theflowmeter unit. Flow accuracy is unaffected by back pressure due to down stream restrictions caused by humidifiers, nebulizers etc.
Note: The BPC Floemeter with control used in te reghulator should not be used with F/A valve.
---
F/A (Fine Adjustment) Valve with Guage & Flowmeter
GM 3006
Set comprises of F/A Valve with Gauge (GM 3005), flowmeter (GM 3007) & Gauge Saver (GM 3115)
The unit reduces the cylinder pressure by merely providing a variable restriction to the flow of Oxygen from the cylinder outlet. As volume of Oxygen in the cylinder reduces, the flowmeter has to be constantly adjusted to maintain the required flowrate. The flowmeter unit without control is fitted with jacketed type shatter proof tubes calibrated from 0-15 ltrs/min.
Note: The flowmeter without control used in the F/A valve should not be used with an Oxygen Regulator.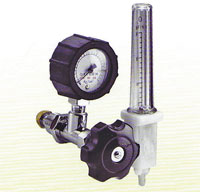 ---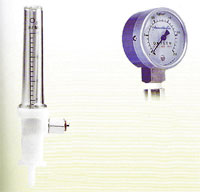 Flowmeter Unit for F/A Valve
GM 3007
Note : The flowmeter without control used in the F/A Valve should not be used with an Oxygen Regulator.
Oxygen Pressure Gauge
GM 3113
50 mm Dia, 0-250 Kgs/cm2
---
Humidifiers
Consists of an unbreakable jar with screw on cap fitted on top inlet and side outlet tubes. The inlet tube ends in a specially designed diffuser from which oxygen is bubbleds through water before reaching the outlet.
GM 3013 – Humidifier with "s" Hook – for hanging on the cylinder trolly or flowmeter unit.
GM 3050 - Humidifier – screw on type – Metal Inlet
GM 3012 - Humidifier – screw on type – Plastic Inlet
Provided with ½" BSF threads that can be screwed on directly to the outlet of the flowmeter.
GM 3051 – Humidifier – for generator – metal Inlet
GM 3012 - Humidifier – for generator – Plastic Inlet
For use with an Oxygen Generator / Amar Oxygen Regulator. Has a 9/16 UNF female kurled nut & nipple at the inlet.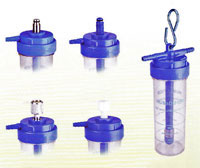 ---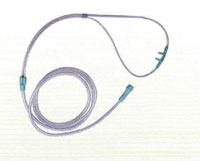 Oxygen Nasal Cannula (Disposable)
GM 3014 – Adult
GM 3015 – Child
GM 3016 – Neonatal
Not just another axygen nasal cannula – the 'U' shaped moulding with limbs which is inserted into the nostrils will not hurt the patient when inserted. Extremely light in weight, the nasal tips ensure a comfortable fit for efficient oxygen therapy. Supplied with 2 meters tubing.
---
Oxygen Mask – Plain (Disposable)
GM 3017 – Adult
GM 3018 – Child
Light weight design, soft feathered edges for increased patient comfort, nose clip for nose bridge adjustment & for better fit, pull through adjustable elastic head band & swivel tubing connector for changing angle of operation without disturbing the mask.