The Manufacturing Site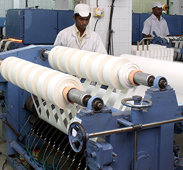 We have vertically integrated manufacturing facilities right from spinning, weaving, processing, coating, impregnation, drying, rolling, cutting, packing and sterilization which makes us a full-fledged producer of supreme quality medical products and has helped us flourish over the years. Today, we can proudly state that we are a leading global medical device enterprise and a major supplier in the product segments of Casting, Bandaging, Wound Care, Compression Stockings, Rehabilitation Aids, Operation Theatre Products, Hygiene Care, Patient Care Devices, Continence Care and Re-packing of Drugs.

All our sites are cGMP certified and in accordance with Revised Schedule M' duly approved and audited
by FDA, Maharashtra State. The sites deliver products that comply with international quality specifications and are the driving force of the organization. They are well equipped with all the cutting-edge Machinery including air handling and dust extraction systems to maintain the environment and meet the requirements for manufacturing Surgical Dressings and other medical devices. To support the manufacturing operations, it has a full-fledged Laboratory for Chemicals, Instrumentation and Microbiology. All raw materials are purchased from approved Vendors and manufacturing processes are carried out in accordance with stipulated SOP's in suitable environment to minimize bio-burden levels. The Quality Management Systems are duly certified for ISO 9001:2008 and ISO 13485:2003.
---
Few Salient Features of our Plant:-
Manufacturing facility is tactically located in close proximity to Mumbai, a commercial hub of India and is well connected by Sea, Air and Rail network;
Facility has Clean Rooms of Class 100, Class 10000 and Class 100000 with separate service areas for products which are terminally sterilized. For Casting, Bandaging and Rehabilitation Products, the manufacturing areas are designed with suitable dust extraction systems and air handling units. The Re-packing Chemicals Department has separate rooms for liquids and powers;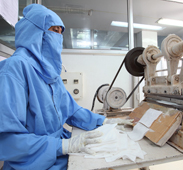 Appropriately set out manufacturing facility for each product category comprising of unidirectional material flow, personnel movement ;
'Validation of Equipments, Processes and Systems including Process Controls;
Adherence to Standard Operating Procedures (SOPs) and Training;
The facility comprises of three buildings designed to separate stage-wise processes to avoid mix-ups, cross contamination. AHUs (Air Handling Units), Dehumidification Units and Dust Extraction Systems required to take care of the environment are installed;
Environment in each area of the plant is adapted in accordance with the Temperature, Humidity, Filtration, Particle Counts etc.
Continually improved Total Quality Management System.
---
---
The Production Capacity
The Plant has the following Sections with the production capacities:
| Sr. No. | Description | Annual Production Capacity |
| --- | --- | --- |
| 1 | Moist Wound Dressings | 30 Million Pouches |
| 2 | Moist Wound Dressings (Multiple Dressings) | 5 Million Packs |
| 3 | Dry Wound Dressings | 30 Million Packs |
| 4 | Elastic Adhesive Bandages | 2 Million Rolls |
| 5 | Adhesive Plaster (Zinc Oxide) | 1 Million Sq. Mtrs. |
| 6 | Open Wove Bandages | 360000 Dozens |
| 7 | Gauze Swabs, Abdominal Swabs etc. | 300000 Packs |
| 8 | Standard Dressings & First Aid Dressings & Other Bandaging | 20 Million Units |
| 9 | Bleached Gauze | 25 Million Sq. mtrs |
| 10 | Absorbent Lint, Flannel Cloth, Cotton | 300000 Kgs. |
| 11 | Wipes & Swabs | 20 Million Pcs. |
| 12 | Crepe Bandages | 30 Million Rolls |
| 13 | Rehabilitation Aids | 500000 Pcs. |
| 14 | Plaster of Paris Bandages | 50 Million Rolls |
| 15 | Continence Care Products | 30 Million Pcs. |
| 16 | Menstrual Pods | 5 Million Pcs. |
| 17 | Other Misc. Devices | 15 Million Pcs. |
| 18 | First Aid Kits | 15 Million Kits |
| 19 | Re-packed Drugs | |
| | (a) Liquids | 20 Million Bottles |
| | (b) Powders | 15 Million Packs |