The Research Culture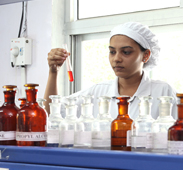 Goldwin is dedicated to researching, developing, manufacturing and marketing technically innovative and cost effective medical devices that deliver significant advantages to clinicians and patients. Through direct contact with healthcare providers, we obtain Clinicians' views of their present and future requirements so as to provide momentum to our own research work.

We have been improving and developing Quality Medical Devices which are at par with the current market demand and significantly contribute to the medical fraternity at large.
Our R&D Team concentrates on development and commercialization of cost effective devices and techniques with enhanced features and patient welfare. We are committed to continually develop specialty Wound care, Casting & Bandaging and differentiated medical devices. We strongly believe our success depends on a vibrant and proactive R& D function in order to ensure production of strong pipeline of new products which in turn will facilitate us to accomplish our vision and mission.