The Quality Control Culture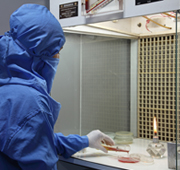 Goldwin has Quality Control Policy, Systems and Objectives in place. We assure that throughout every single phase of manufacturing process, right from acquisition of raw materials, full documentation and continual auditing is conducted to ensure that all the instituted protocols are duly substantiated.

These measures are taken to ensure supreme quality by comprehensive set of checks and controls installed throughout the entire production and packaging process. These measures include testing and inspection of incoming raw materials, in process controls along the line and final inspection of finished products before delivery.


In order to support the Quality System, the facility has a full-fledged Chemical, Instrumentation and Micro-sterility Laboratory with Class 10000 environment and Horizontal Laminar Air Flow Unit. All tests are carried out to constantly microbiologically monitor all processes, products, personnel and production areas to ensure that the products are 'safe to use'.
---
The Quality Assurance Department administered by professionally competent and highly experienced technical team and supported by meticulous and innovative analytical equipments emphasises on:-
Regular validation of Products, Processes and Test Methods;
Regular calibration of all instruments to guarantee product output of consistent quality;
Regular quality audit and validation by external agencies;
Regular monitoring approval of vendors based on the stringent procedures laid down;
Regular training to improve the professional skill of personnel;
Regular up gradation of manufacturing facilities to meet latest Medical Directives and GMP;