Anaesthetics
Laryngoscopes Conventional
Mac- Blades
| Size | Use | Length | Code (Shiny) | Code (Matt) |
| --- | --- | --- | --- | --- |
| 3 | Adult | 130 mm | GMS 6303 | N/A |
| 4 | Large Adult | 155 mm | GMS 6304 | N/A |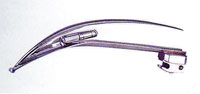 ---
Chhota Flange Macintosh Blades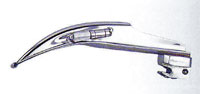 | Size | Use | Length | Code (Shiny) | Code (Matt) |
| --- | --- | --- | --- | --- |
| 3 | Adult | 130 mm | GMS 6153 | N/A |
---
Robertshaw Blades
| Size | Use | Length | Code (Shiny) | Code (Matt) |
| --- | --- | --- | --- | --- |
| 0 | Neonatal | 80 mm | GMS 6020 | N/A |
| 1 | Infant | 92 mm | GMS 6021 | N/A |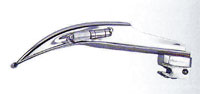 ---
Wisconsin Blade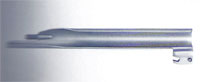 | Size | Use | Length | Code (Shiny) | Code (Matt) |
| --- | --- | --- | --- | --- |
| 0 | Neonatal | 76 mm | GMS 6024 | GMM 6024 |
| 1 | Infant | 102 mm | GMS 6025 | GMM 6025 |
| 2 | Child | 135 mm | GMS 6026 | GMM 6026 |
| 3 | Large Child | 162 mm | GMS 6027 | GMM 6027 |
| 4 | Adult | 199 mm | GMS 6028 | GMM 6028 |
---
Phillips Blades
| Size> | Use | Length | Code (Shiny) | Code (Matt) |
| --- | --- | --- | --- | --- |
| 1 | Infant | 133 mm | GMS 6061 | GMM 6061 |
| 2 | Child | 166 mm | GMS 6062 | GMM 6062 |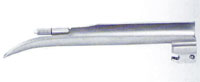 ---
Miller Blades
Lamp
GM 6071
5/32 BSW, 3BA threaded, 3V DC

Pouch
GM 6072
Pouch for Laryngoscope Set
---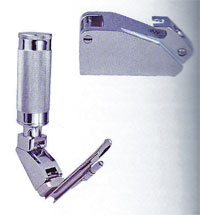 Howland Lock
GM 5001 – For above 30 Kgs.
Set comprises :
1600ml. Self inflating double ended silicone bag with mounts incorporating Reservoir valve and side feed oxygen inlet, Type "L" nonrebreathing valve (GM 9283), Size 4 Clearhood
facemask with silicone cuff (8052), 1.5mtrs oxygen enrichment tubing (GM 5038) & 2600 ml Reservoir bag (GM 5031) all in a carrying case.
---
Standard
Handle
Accepts two size "C" 1.5 V cells.

Penlite
Handle
Accepts two size "AA" 1.5 V cells.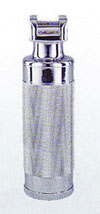 Howland Lock
Most laryngoscope blades from a 90 0 angle with handle when ready for use. When a Howland lock is fitted between the handle and the blade by means of Hook-on connections on both ends, it forms a 45 0 angle. This change in the angle natural lifting action which simplifies natural exposure making intubation possible in the most difficult of cases.
The Handle & Blade shown in the picture are soid separately.